Why LGPM has chosen MVE 500/15 for its project?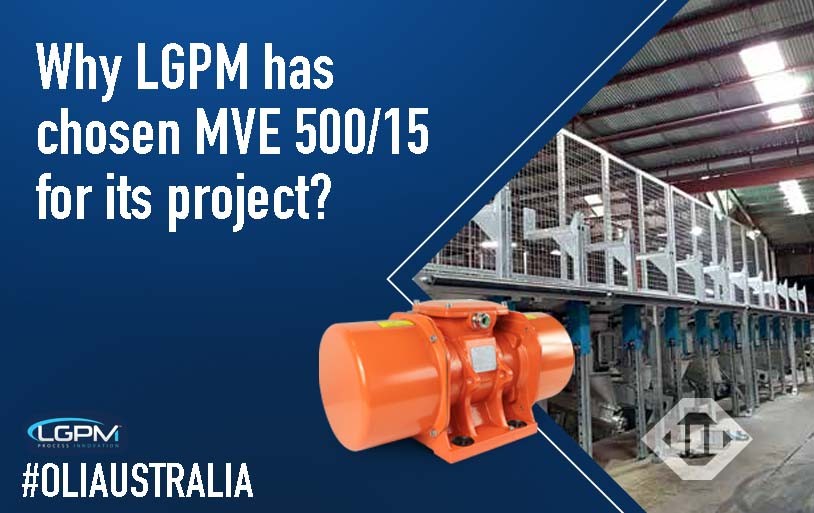 LGPM, a bulk materials handling process company, has chosen OLI Vibrators as the preferred vibrator supplier for Ridley's new feed mill facilities in Australia's Victoria and Tasmania.
For the new Westbury facility, OLI provided its MVE, which were crucial in accurately dosing over 50,000 tonnes of salmon stockfeed.
LGPM found OLI to be a valuable partner because of its dependability, track record, and ability to guarantee prompt supply thanks to its stock holdings in local and international warehouses.
OLI Vibrators are manufactured, tested, and assembled to be used in thermal power plants that are supplied with both fossil energy resources and renewable energy sources, to ensure maximum efficiency in applications such as: loading hoppers, channels, and vibrating extractors, also used in the collection of waste such as ash from furnaces.
The MVE range of OLI industrial vibrators have been designed specifically for the energy sector, and expanded compared to the past, for all market needs.
DISCOVER OUR SOLUTIONS
Download the complete catalogue of the electric motor vibrators.
DISCOVER OUR SOLUTIONS
Download the complete catalogue of the electric motor vibrators.
OLI was chosen to supply vibrators for Ridley's new processing facility in St. Arnaud, Victoria, where LGPM aimed to significantly reduce manual handling and improve batch mix efficiency by installing 12 auto-weight bulk bag stations. This was due to Oli's success in Westbury.
Mark Thompson, managing director at OLI Vibrators Australia, said the project was partially government-funded, and LGPM had to be competitive to win the tender. "LGPM heavily relied on its suppliers to be competitive, so OLI's MVE were priced to win," he said."46 MVE500/15X were required for the project. Oli could guarantee prompt supply due to our stock holdings in not only our own local warehouse, but we were also able to draw from ex-works stocks in Italy and Malta, thus ensuring an uninterrupted supply chain.
>> OLI Australia and Australian Bulk Handling Review: January/February 2023