HFP vibrators for concrete consolidation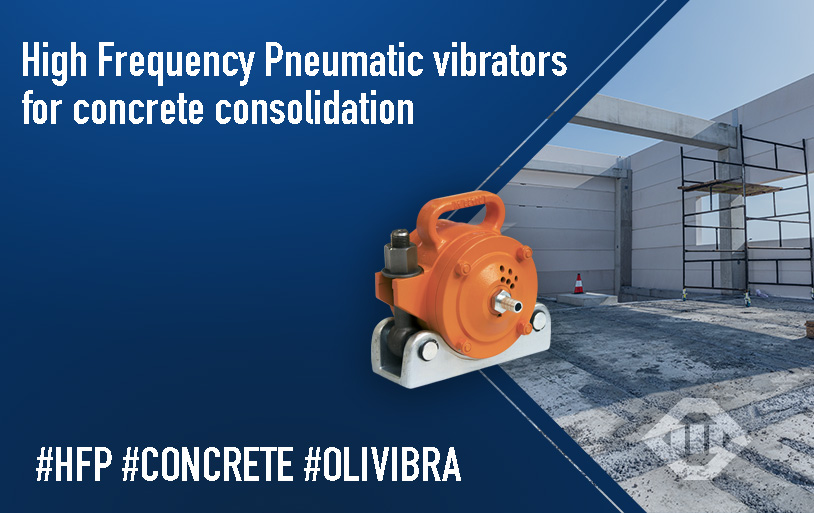 OLI is one of the world's top selling manufacturers of electric and pneumatic vibrators. The business approach is shaped by efficient teamwork and strong internationalization, with a large number of manufacturing facilities and trading subsidiaries located all over the world. OLI's business objectives are achieved through the efforts of its global network of partners. Modena, in Italy, is the headquarters where all core strategies and products are developed.
The advanced planning management offers customers the availability of stocked items virtually everywhere.
OLI has set up a structure to provide a turnkey solution to their customers. Technical monitoring of concrete vibration is integrated in the mould and the associated 3D and FEM software allows control of the application. Based on OLI's experience, the customer is provided with advantages and benefits such as better vibration distribution, reduction of the vibrator involved, and better surface finishing. For more than 5 years, OLI has been able to provide their customers not only with the vibrators but also with control units, which range from simple to complex with remote control or PLC with dedicated software, and all the accessories for the piping like cable, etc.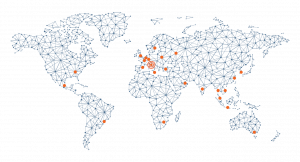 A reason why OLI is achieving great results is that they have 24 subsidiaries around the world with dedicated and expert employees in the concrete sector. Thanks to this sales structure, OLI can also assist their customers with reliable after-sales service worldwide. In the first 7 months of 2022, OLI was chosen for more than 70 projects around the world, including important infrastructure projects, such as metros, underground infrastructure, high-speed railways, and viaducts, as well as projects related to the civil sector, such as panels, 3D boxes, girders, etc.
Project examples
For 2 years, OLI has been a reliable partner for Moldtech, a Spanish supplier of equipment for the precast concrete industry.
HFP – High-frequency pneumatic vibrators for a project in Sri Lanka.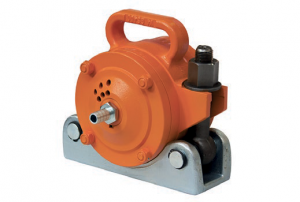 For several years, Moldtech has introduced to the market a new generation of 3D hydraulic moulds, which are used for the construction of residential buildings, bathroom modules or even prison cells. For a project in Sri Lanka, the 3D mould allows to prefabricate the 4 walls and the upper slab of different modules, which once lifted from the mould is moved to a finishing table where the lower slab is incorporated, allowing the module to be closed on its 6 faces.
DISCOVER OUR SOLUTIONS
Download the complete catalog of the concrete consolidation.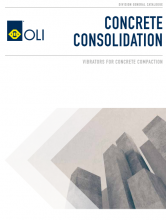 DISCOVER OUR SOLUTIONS
Download the complete catalogue of the concrete consolidation.
Moldtech supplies a mould that is prepared to cast different configurations, with maximum dimensions of 6.55 m in length x 3.24 m in width x 3.11 meters in height. The wall thickness can also be modified. The inner core of this mold includes a hydraulically retractable system, thereby allowing to perform the de-molding in a swift manner without the need for a conical slope and facilitating easy removal simply by pulling from the top of the piece.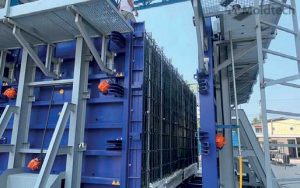 The 3D mold is equipped with OLI's HFP 6000C pneumatic vibrators, which ensure that the concrete is compacted evenly and very well. Used both in prefabrication plants and on construction sites, OLI's high-frequency pneumatic vibrators are an ideal solution for obtaining optimal results in compacting concrete where it is not possible or dangerous to use electrical systems. The OLI HFP series vibrators eliminate imperfections from the concrete surface, which will therefore be aesthetically perfect and weatherproof.
Technical features
HFP vibrators have no electrical components; they are powered by an air compressor that rotates the rotors inside the vibrator at a very high speed, generally between 10,000 and 17,000 vpm, thus generating a circular vibration that spreads in all directions.
• Working pressure: 6 bar
• Air supply quality: Class 5.4.4
• Operating temperature: -10 °C – +60 °C
• Maximum noise level: 103 dB (A) – HFC 4001C (silent version): 90 dB (A) at 1-meter distance
• Technology: eccentric rotor
• Materials: cast iron
• Finish: painted