OLI Vibrators shakes up batching plant design
Tecfitmac Engineering's concrete batching plants have become the company's most popular product. ABHR finds out how OLI Vibrators helped.
Lee Hutchinson was tasked with designing a durable and easily transportable mobile concrete batching plant to withstand Australian conditions. Utilizing his engineering expertise, Hutchinson successfully created a plant that became essential for his company, Tecfitmac Engineering. However, he encountered issues with concrete build-up on the walls of the plant during challenging weather conditions. To address this problem, Hutchinson sought a solution from OLI Vibrators.
"They helped take the design to the next level. OLI provided vibrators that suited the plant perfectly" – Hutchinson said.
The vibrators are located at the base of the hopper and have eliminated any build-up occurring.  Every mobile batching plant now has the OLI OMV850 hydraulic vibrator fitted as standard, with further collaborations and pneumatic solutions to come. The vibrator's robust design was an excellent fit for the batching plants, which are deployed all around Australia to help manufacture concrete slabs, roads, culverts, and more.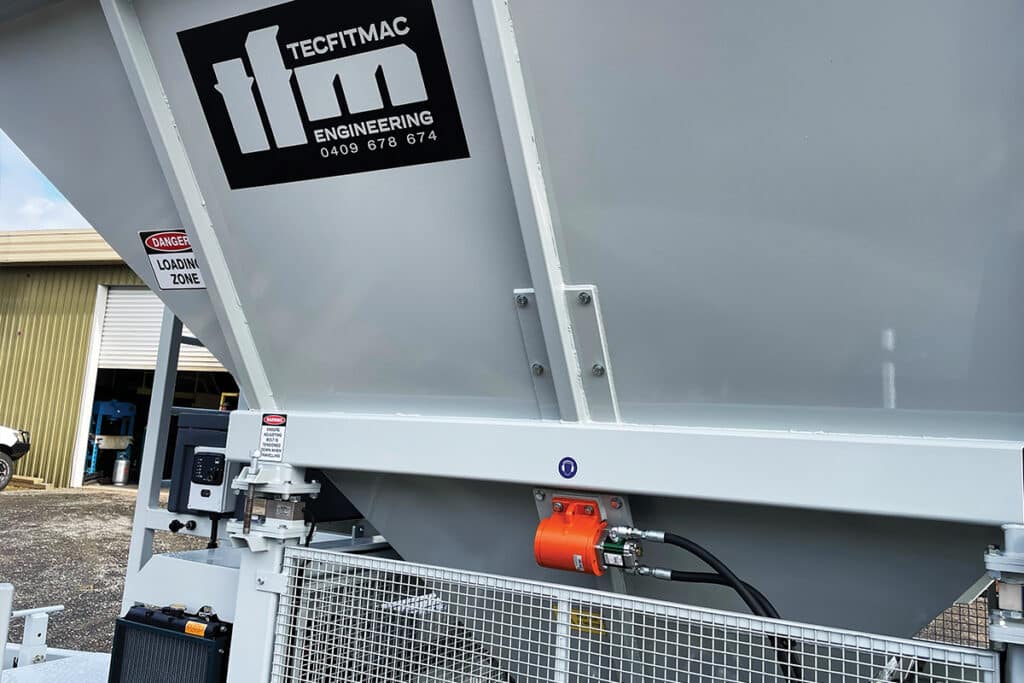 DISCOVER OUR SOLUTIONS
Download the complete catalogue of the electric motor vibrators.
Large construction companies, farmers and even a major aquaculture business have put the machines through their paces.OLI vibrators are popular across the construction sector, being used in several major tunneling projects, along with highway infrastructure upgrades and precast concrete manufacturing, all over Australia and New Zealand.
Mark Thompson, OLI Vibrators general manager, said the company prides itself on providing high-quality, European-built equipment. "Product performance and reliability – whether out on-site or in the factory – is of paramount importance," he said.  "There's a limited timeframe to work in, and our customers need to know that the equipment will be working as it should when they need it. If a business has a hang-up and can't get its product out of a silo or hopper, we can be there straight away.
Hutchinson expressed that the company is also eager to export tailor-made machines.
"We've received inquiries from New Zealand and other nations – the feedback has been astounding," he stated.
"We anticipate the growth and development of the business collaboration between OLI and Tecfitmac Engineering, with the aspiration of enhancing the product further."
OLI Vibrators are manufactured, tested, and assembled to be used in thermal power plants that are supplied with both fossil energy resources and renewable energy sources, to ensure maximum efficiency in applications such as: loading hoppers, channels, and vibrating extractors, also used in the collection of waste such as ash from furnaces.
The MVE range of OLI industrial vibrators have been designed specifically for the energy sector, and expanded compared to the past, for all market needs.