OLI on NorthLink WA Australia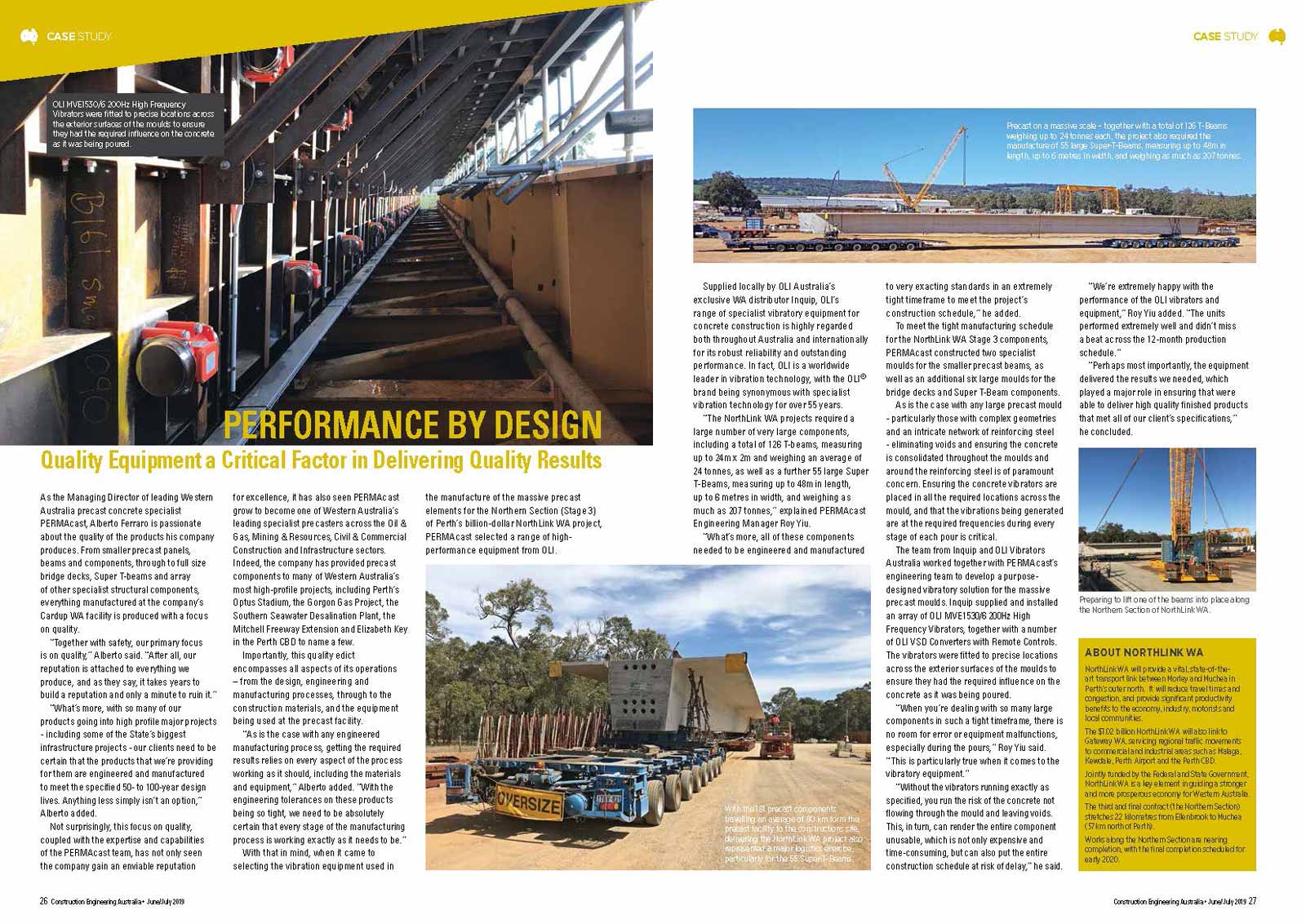 Mark Thompson, General Manager at OLI Australia, has been interviewed by the magazine "Construction Engineering Australia".
Here is a small abstract of the article:
PERFORMANCE BY DESIGN
Quality Equipment a Critical Factor in Delivering Quality Results

As the Managing Director of leading Western Australia precast concrete specialist PERMAcast, Alberto Ferraro is passionate about the quality of the products his company produces.
From smaller precast panels,beams and components, through to full size bridge decks, Super T-beams and array of other specialist structural components, everything manufactured at the company's Cardup WA facility is produced with a focus on quality.
"Together with safety, our primary focus is on quality," Alberto said. "After all, our reputation is attached to everything we produce, and as they say, it takes years to build a reputation and only a minute to ruin it."
"What's more, with so many of our products going into high profile major projects – including some of the State's biggest infrastructure projects – our clients need to be certain that the products that we're providing for them are engineered and manufactured to meet the specified 50- to 100-year design lives.
Anything less simply isn't an option," Alberto added.
Not surprisingly, this focus on quality, coupled with the expertise and capabilities of the PERMAcast team, has not only seen the company gain an enviable reputation for excellence, it has also seen PERMAcast grow to become one of Western Australia's leading specialist precasters across the Oil & Gas, Mining & Resources, Civil & Commercial Construction and Infrastructure sectors.
Indeed, the company has provided precast components to many of Western Australia's most high-profile projects, including Perth's Optus Stadium, the Gorgon Gas Project, the Southern Seawater Desalination Plant, the Mitchell Freeway Extension and Elizabeth Key in the Perth CBD to name a few.
Importantly, this quality edict encompasses all aspects of its operations – from the design, engineering and manufacturing processes, through to the construction materials, and the equipment being used at the precast facility.