Since 1994 VISAM has been dedicated to designing, manufacturing and marketing electric vibrators for industrial applications requiring high performance and reliability.
In 2013 it became part of OLI Group and since 2017 the brand Visam is distributed in more than 50 countries through the OLI Trading subsidiaries and local resellers.
We offer a full range of electric vibrating motors that are designed to suit the most demanding applications.
At VISAM, we pride ourselves on our commitment to creating products with top quality materials and using the best components available on the market. We always keep a particular eye on accuracy and precision in the manufacturing and finishing processes. All of our product ranges has passed multiple quality checks from raw material up to finished product testing.
Thanks to our ongoing research, aimed at achieving top quality products, today VISAM is renowned worldwide as a reliable and perfomant partner and can boast of a strong presence in major international markets to which it exports more than 80% of its production.
Various production industries (mining, siderurgical, food, building, animal husbandry etc.,) utilize Visam industrial vibrators to improve productivity and safety and also to increase profits.
"Since 1994 we have been growing our product, service and technical competence, in order to gain customers' fidelity and satisfaction. This will continue…"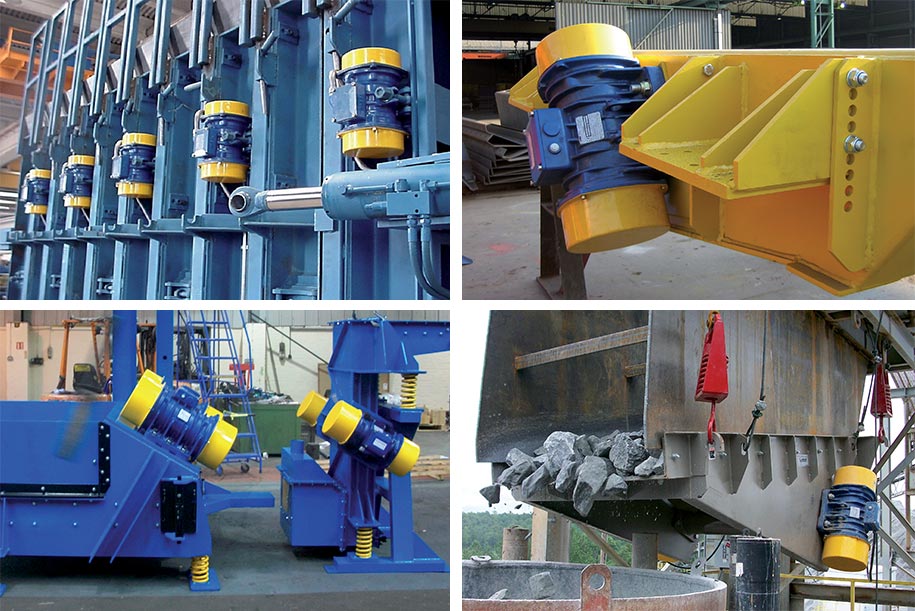 PRODUCTS
Electric vibrators select products
Visam motovibrators are manufactured and assembled in Italy, the country known to be technologically advanced for mechanical processing required in this type of products.
Components come exclusively from European markets (Italy and Germany), where the research for quality, reliability and performance is continuous.
The VISAM R&D department, working on materials, technical solutions and components, develop a product that offers an unbeatable quality/price without compromising proven reliability. To obtain this, VISAM uses the most modern techniques of calculations and puts its vibrators through rigorous tests. Final test on 100% of the production is done, and complete traceability of products and manufacturing processes are a sure guarantee for customers.
VISAM deeply believes in the concept "think global, act global": to collect global opportunities and offer development with local investors through increased industrialization processes, research and innovation. All of this is realized with the collaboration of university institutions and major partners such as suppliers and customers.
These efforts results in a product at the top in terms of performance and durability, with the highest production efficiency currently available on the market and therefore a safe electric power for the user. Risks of extraordinary maintenance and plant shutdown are minimized.
Last but not least, VISAM is made up of people that support the daily activities of the company and provide its know-how by offering quality customer services such as:
assistance on selection and correct installation of the vibrator;
personalization of its product to ensure performance expectations;
training for installers, distributors and sales agents on the characteristics of the vibrator and also on its operating theoretical and practical operation.