IDMA – Turkey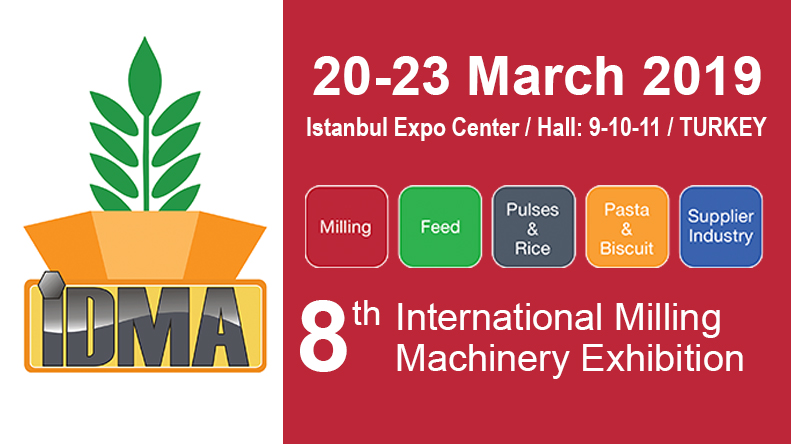 Istanbul, Turkey
OLI AT IDMA 2019  – Find us at Hall 10, Stand A14.
40 procurement committees, 27 visitor groups, 86 confirmed countries 
Countdown for IDMA 2019
The sector players who want to invest in flour, feed, rice, pulses, pasta, and biscuit industries are counting the days for IDMA, the only international milling technology exhibition. IDMA Exhibition, which will be held for the eighth time on 20-23 Mach 2019, is directing the sector one more time with procurement committee from 40 countries, visitor groups from 27 countries and thousands of visitors from 86 countries who have been already registered.
IDMA – International Flour, Feed, Semolina, Rice, Corn, Bulghur, Milling Machinery & Pulse, Pasta, Biscuit Technologies Exhibition, is preparing to host thousands of professional investors from all around the world for the eighth time on 20-23 March 2019 at Istanbul Expo Center.
58 ASSOCIATIONS, 27 GROUPS, 86 COUNTRIES
Exhibition organizer Parantez International Fair is continuing to get support from leading associations, unions and other non-governmental organizations upon its promotional activities conducted across 144 countries and to plan group participation. The fair company approved the participation from 86 countries by the end of December 2018. The company conducting collaborative work with 58 associations from all over the world achieved to get approval for group-based participations from 27 countries.
PROCUREMENT COMMITTEES FROM 40 COUNTRIES WITH COLLABORATION OF OAIB AND PARANTEZ 
Assertive about the visitors, Parantez gained a significant advantage regarding procurement committees. Under the coordinatorship of Turkish Ministry of Commerce and with the organization of Central Anatolian Exporters Union (OAIB), procurement committees will be brought to 8th IDMA Exhibition from many locations of the world notably from Africa and South America.
Parantez Fair will support OAİB's studies towards Procurement Committees with its data over 90-thousand-professionals covering 144 countries and its team conducting promotions in 5 languages. Together with this strong collaboration, Procurement Committees from approximately 40 countries will be brought to IDMA.
TURKISH AIRLINES SUPPORTS THE VISITORS
The fair organizer company Parantez International Fair continues its one-to-one promotions as well as attending events on numerous points on the globe and making use of every channel such as press, social media and digital marketing in an optimum way for amplifying the visitor population of IDMA, the address of sector representatives seeking for profitable investments.
Furthermore, Parantez tries to think of ways to provide economic convenience for the visitors and, for this purpose, Parantez made an agreement with Turkish Airlines (THY) for a 20-percent-discount for providing an economic flight to the passengers coming to Turkey-İstanbul for IDMA 2019 Exhibition. Together with this agreement, THY, which is a leading global airline, became the "Official Airline" of IDMA 2019 exhibition.
TRAINING SUPPORT TO VISITORS
The Milling Training that has been started for contributing to the qualified workforce of the milling, flour and feed sectors will be held for the third time on 21-23 March 2019 under the roof of IDMA. Certified Milling Training, which was given in IDMA 2013 for the first time and in IDMA 2015 for the second time and aroused great interest, will be realized under the organization of TABADER, leading Turkish sectorial association.
The training will be held at two separate halls towards flour and feed industries in English and Turkish simultaneously. On the first day of the three-day training; common topics that concern both the flour and feed industries such as energy management, innovation, R&D, P&D, quality control, and risk analyses will be discussed. On the following two days, subjects like special storing techniques for grain (flour) milling and feed milling, new global trends, diagram, additives and vitamins, quality control, automation, machinery and mechanical maintenance, ration preparation, preliminary purification and crushing lines will be discussed. The theoretical training that will be given by expert academicians and industry representatives will be supported with new product and technology demos that will be organized in the fairground. The participants will take their certificates at the end of the three-day training. Detailed information and registration form are available at https://www.idma.com.tr/en/download-center/milling-training
Source: https://www.idma.com.tr/en/press-center/press-releases